About The Artist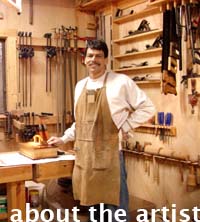 A North Carolina native, Robert Shuping has been working with wood for over 30 years, building custom homes and renovations in the Chapel Hill and Durham area as a "hands on" licensed general contractor, providing custom trim details, built in cabinets, creative decks and other special features. In his shop in Chapel Hill he builds one of a kind furniture pieces and creative wood turnings including birdhouses, bowls, boxes and other unique items.
Exhibits of Robert's work have included the Wharton Esherick Museum in Malvern,PA in 2013 and 9 consecutive years in Birdhouses on Parade at The Carolina Inn in Chapel Hill, NC. His birdhouses have been featured in the 2014 book Birdhouses of The World by Anne Schmauss. In recent years his work has been noted in national publications The Wall Street Journal and Reader's Digest online (both 2014), and in The News and Observer of Raleigh, NC (2012).
Although some pieces are created from purchased premium wood, Robert harvests a good deal of the wood himself from storm damaged trees and those otherwise being removed. He cuts these logs, roots and burls in a way that exposes the most attractive figured grain each piece can offer. A large variety of his locally harvested air dried wood is available for new creations. Most of the harvested wood comes with its own story. A Walnut tree uprooted during hurricane Fran of 1996, a Holly tree downed in the ice storm of 2003, and salvaged wormy Chestnut from an old piano are some examples. With rare exceptions, most pieces are finished without stains or dyes and sealed with an appropriate protective and enhancing finish suited to its intended use. All items he produces are available to view or purchase online at rsswoodworks.com.
Robert lives outside Chapel Hill with his wife of over 30 years with their 3 dogs and 2 parrots.